Charles is a consultant civil engineer. He is a Member of the Institution of Civil Engineers. He also flies aircraft for fun: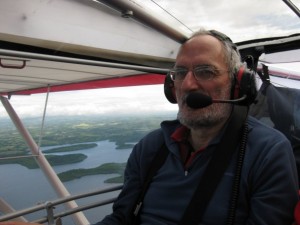 Here is his C.V.
2016 to Date – Charles Hunt Engineering Consultancy.
Post handover engineering support to Biffa West Sussex.
Technical advice to Saltdean Lido CIC.
2009 to 2016 – MWH
Provision of Project Management and Engineering Support services to Biffa West Sussex for Horsham household waste recycling facility including anaerobic digestion producing sufficient biogas for 3 x 1.4 MW generators, including management of 13km HV connection to network substation including liaison with DNO. Managed a team of specialists to provide independent review of EPC contractor's proposals, and acted as Contract Administrator during the construction phase.
2005 to 2008 – MWH
Project manager for various water and wastewater schemes in the Southern Water area. 1 year providing technical support to Northern Ireland Water developing technical standards.
1995 to 2004 – Capita Symonds.
One year spent in Jordan developing wastewater strategy for the north-west of the country, including preliminary designs for 10 treatment plants. Management of EU to Republic of South Africa technical assistance project. Management of replacement water and gas supplies to the Royal Hospital Chelsea. Preliminary services identification and development strategy for 2012 London Olympics bid. Short term appointments to EU assessment teams for Eastern European development projects.
1989 to 2003 – Biwater Group.
Project Management and technical support to overseas projects including 1 year in Abu Dhabi on refurbishment of sewage pumping stations, and Mafraq WWTP. Project management of ?25m BOOT wastewater treatment concession of SEAPAL Puerto Vallarta, Mexico. Other projects in Sri Lanka, Malaysia, Nigeria and Ghana.
1987 to 1988 – TBP Ltd
Establishment and management of publishing company producing specialist leisure publication for national sale.
1985 to 1986 – Lecturer.
Willesden College of Technology
1983 to 1985 – Lecturer
Singapore Polytechnic
1977 to 1982 – Costain Group
Construction management for a range of projects including RAF Alconbury hardened aircraft shelters, A120 Colchester bypass and Hong Kong Island Eastern Corridor.
Professional Qualification MICE 1981
Education
BSc Civil Engineering. Birmingham 1977