We have been waiting a long time for this announcement from the Open Charge Alliance:
The full and official version of OCPP 2.0.1 is released and open to the public. OCPP 2.0.1 replaces OCPP 2.0 and features several bug fixes and improvements based on experiences in the field. As some of these improvements are on message level, the version number of OCPP has been increased to 2.0.1.

OCPP 2.0.1 incorporates improvements for things found in the first implementations of OCPP 2.0 during our Plugfests and in the field. Improvements have been made in the area of Security, ISO 15118, Smart Charging and the extensibility of OCPP. A better explanation of the Device Model has been added as well as several other improvements. No new functionality is added to this release.
However it appears as though the wait has been largely in vain from our particular perspective, since the announcement makes no mention of "smart discharging",  more popularly referred to as V2G.
These Renault ZOE's, pictured in Utrecht last year, do support vehicle-to-grid operation and the ISO 15118 protocol between the charging station and EV. However that is achieved by using non-standard extensions to OCPP 1.6: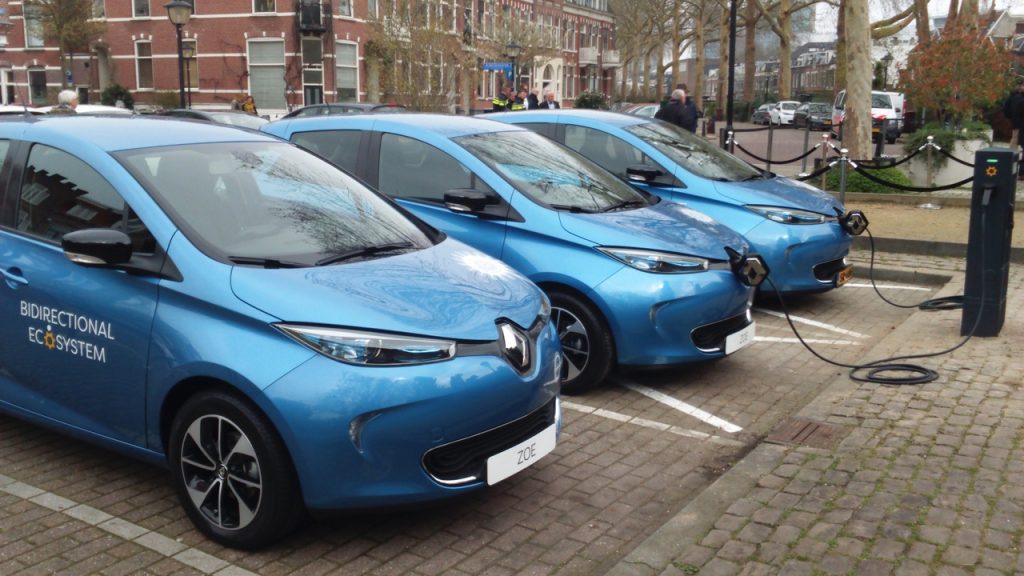 The OCA have made another announcement recently as well. Here it is:
The Open Charge Alliance (OCA) has noticed that there is an increasing interest in the activities of the alliance and that companies are eager to take the next step with OCPP. Although we cannot meet face-to-face due to the worldwide COVID-19 virus, the OCA wants to share knowledge and help everyone with their implementations and innovative ideas. Therefore we are happy to announce that we will be organizing a short series of webinars about OCA's activities parallel to the Online OCPP 2.0.1 Plugfest on April 20th and 21st.

These webinars are free and open to everyone. You don't have to be a member of the Open Charge Alliance or have in depth knowledge about the topics.
I've already signed up for the "OCPP 2.0.1 tutorial" option. The other available topics are:
What is the Open Charge Alliance?
OCPP 1.6 certification program.
OCPP 1.6 Compliance Testing Tool.
You can get your own copy of the OCPP 2.0.1 specification via the download section of the OCA website.