On Wednesday Kasia and I travelled up to London to visit the Department for Transport. Things did not begin well!
We're on our way to #Westminster to discuss #V2G with @transportgovuk. We drove from #SilicInnyValley to #Exeter amid foul weather and took 1/2 hour to park Adam (& Glen) upgraded us to 1st class. Thanks guys! Then we met Alan and had a good old #chinwag! Hope we're not late! pic.twitter.com/cBvdbWFDlC

— V2G EVSE (@V2G_EVSE) March 15, 2018
We eventually arrived at the Department for Transport with our suitcase in tow and my suit still in its case. However after a literally sticky start the discussion about our Transport Technology Research Innovation Grant (T-TRIG for short) seemed to go very well. The meeting was scheduled to last an hour but continued for another half an hour beyond that. The title of our newly funded project is "Vehicle to Grid Controller with Modular Communications". However we were reliably informed that it may well take a month for "The Minister" to sign off on the associated press release and the "public summary" to be published.
The connection may not be immediately apparent, but the next day I attended the FIX Trading Community 2018 EMEA Trading Conference. Suffice it to say that the phrase "energy markets" was mentioned almost as often as "financial markets". Here's the panel that discussed "How is a Growing Demand for Digitalisation Shaping the Next Wave of Transformation in Capital Markets?" who at one point debated the pros and cons of blockchain technology in energy markets:
I'm afraid that I took exception to Bill Murray's assertion that blockchain technology would enable small scale renewable generators to partake in local energy markets. My question was succinct:
"How?"
In his answer Bill mentioned "Eastern Europe" and "Asia", but not the United Kingdom.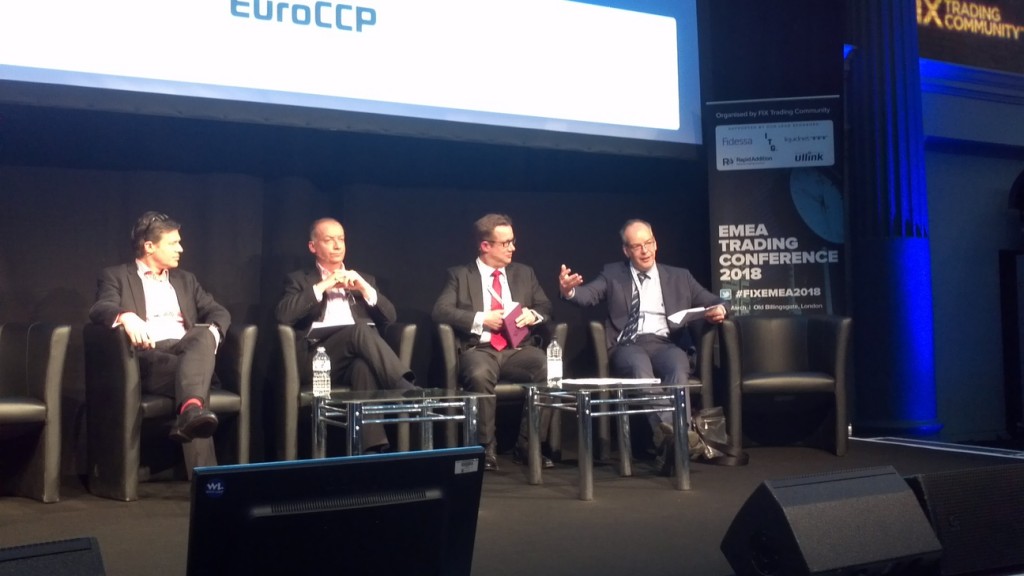 I also discovered a most interesting piece of news, about which I will have more to say in due course. According to an Itiviti AB press release:
The Board of Directors of Itiviti AB announces that the transaction to merge the company with ULLINK was completed on March 14, 2018.

With annual sales exceeding $200 million, 1,000 employees and local presence in major financial markets across Europe, Asia-Pacific and the Americas, the combination of Itiviti and ULLINK creates a full-service technology and infrastructure provider for global and regional financial institutions.

The intention to combine Itiviti and ULLINK was jointly communicated by the companies and owner Nordic Capital on November 28, 2017.

The Board has appointed Torben Munch as Chief Executive Officer of the combined entity.
Then on Friday we took a brief break from work in order to visit the Winnie the Pooh exhibition at the Victoria and Albert Museum. Not to be missed by children of all ages!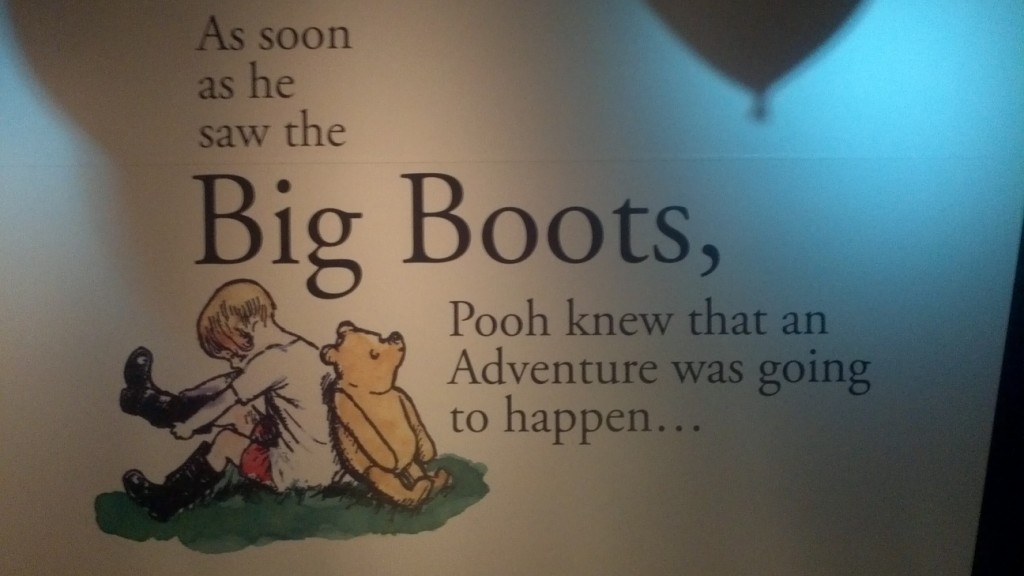 V2G EVSE's startup adventure has only just begun. Apart from delivering what we have promised the DfT we also have to find funding for the next stage of the project at some point in the not too distant future!