The first article on the V2G EVSE blog is also the first in an occasional series of articles that are not directly related to electric vehicle charging infrastructure! The topic under discussion at the Penryn Campus of the Universities of Exeter and Falmouth yesterday was eHealth. Quoting from the Wikipedia article on the subject:
eHealth (also written e-health) is a relatively recent healthcare practice supported by electronic processes and communication, dating back to at least 1999. Usage of the term varies. A study in 2005 found 51 unique definitions. Some argue that it is interchangeable with health informatics with a broad definition covering electronic/digital processes in health while others use it in the narrower sense of healthcare practice using the Internet. It can also include health applications and links on mobile phones, referred to as mHealth or m-Health. Since about 2011, the increasing recognition of the need for better cyber-security and regulation may result in the need for these specialized resources to develop safer eHealth solutions that can withstand these growing threats.
As I mentioned at one point during the proceedings, I had been "parachuted into the event from the smart grid" because I had the good fortune to bump into Mael and Darren from the Smartline Project at a Software Cornwall event on a snowy day in St. Austell at the beginning of February:
3/4 Another revelation from #TechConnect #Cornwall yesterday. The #Smartline #eHealth project is rolling out a #LoRaWAN network across the #Camborne/#Redruth area. Cc: @agritecchie @simon_ict @clairehewlett62 @scottmann4NC @MPGeorgeEustice pic.twitter.com/zGggL85tRA

— V2G Limited (@V2gUK) February 7, 2018
Yesterday I learned much more about the Smartline Project's Low Power Wide Area Network (LPWAN for short). Darren said that by the end of March 350 "LoRa but not WAN" gateways and lots of associated sensors will have been installed in social housing across the Camborne/Redruth area of Cornwall. I clarified his remark in the question and answer session:
A techie #IoT question answered at today's #SmartlineProj seminar.

350 #LoRaWAN gateways in a PRIVATE network avoids numerous "security" issues!

— V2G EVSE (@V2G_EVSE) March 9, 2018
Somewhat earlier in the proceedings Anna Mankee-Williams had (somewhat tongue in cheek?) set the scene by playing the first part of a video entitled "How IoT Will Destroy Us All"!
Anna summed up her point up by saying:
The Internet of Things is being "pushed" by big business. It's more like "the Internet of Everything" these days. Who actually NEEDS an Amazon Echo?
I cannot help but agree, since I don't possess even a single incarnation of Alexa! Does that make me a modern day Luddite?
I expect I'll have more to say on the Smartline Project's use of IoT devices when Anna has sent me the slides from the event, but for now I'll focus on a couple of the exercises Anna asked us to do. The first was to discuss how an omniscient CIO could start to fix the many things that are broken. Having parachuted in from the vehicle-to-grid space I suggested breaking down lots of silos. In my example Transport v Energy v Infrastructure v Buildings v a few more. I was dismayed to learn from the IT expert sat next to me that matters are far worse in the NHS! Apparently it's nigh on impossible to acquire and compare data from different primary care trusts. Likewise from different hospitals within a single trust. Likewise between different departments within a single hospital.
Suitably chastened I subsequently ate my traditional tin miner's lunch:
A traditional Cornish lunch on the #infrastructure table at the @FalmouthUni #SmartlineProj seminar this afternoon. Intriguingly the #research breakout group came up with an almost identical list of post prandial "top priorities" as we did! #RasPi #Cornwall pic.twitter.com/skNej7DdmM

— V2G EVSE (@V2G_EVSE) March 9, 2018
After that we divided into breakout groups. As alluded to above, both the "research" group and my "infrastructure" group decided the top eHealth priorities were:
1) All concerned should have access to a basic minimum level of communications technology. Half of the 350 recipients of a sensor studded social house didn't previously have internet access and were therefore provided with tablets as part of the Smartline Project, and
2) In order to achieve #1 "regulations" needed to change. In my smart grid (AKA the "Internet of big things") analogy the UK Government is already "committed" to ensuring that every new build will be fitted with big enough wires to allow the charging of an electric vehicle at some point in the indeterminate future. Why not do the same with Cat 6 cabling and/or a sprinkling of adequately wirelessly connected IoT style sensors?
There had been lots of discussion about these and other issues over lunch: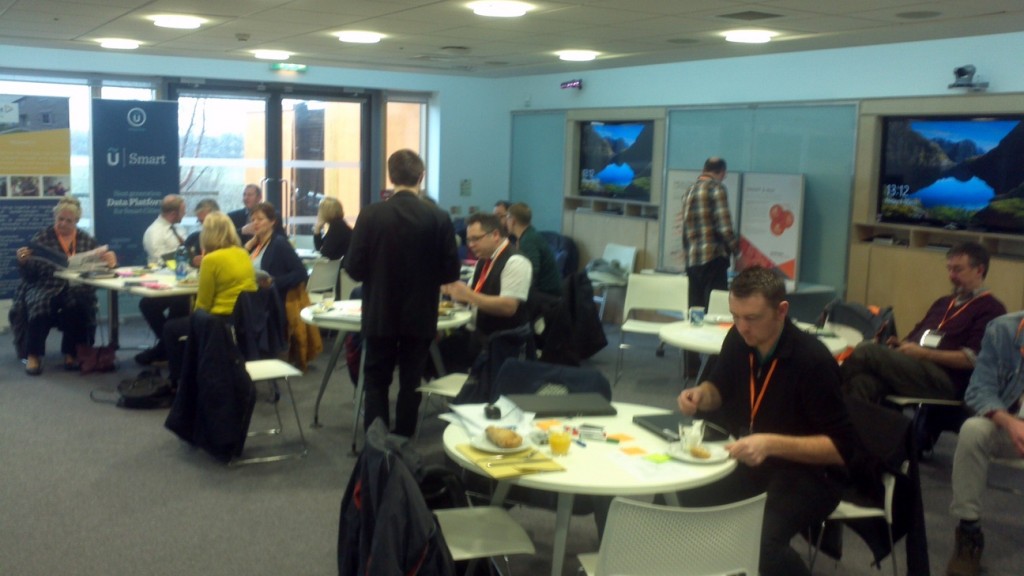 However I'm pretty sure that all the questions haven't been answered and all the problems solved just yet!